Claire Bridges fékk hjartaáfall, þjáist af hjartabólgum og búin að missa báðar fæturnar í kjölfar tilraunabólusetningar
febrúar 14, 2022 - 5:59 e.h.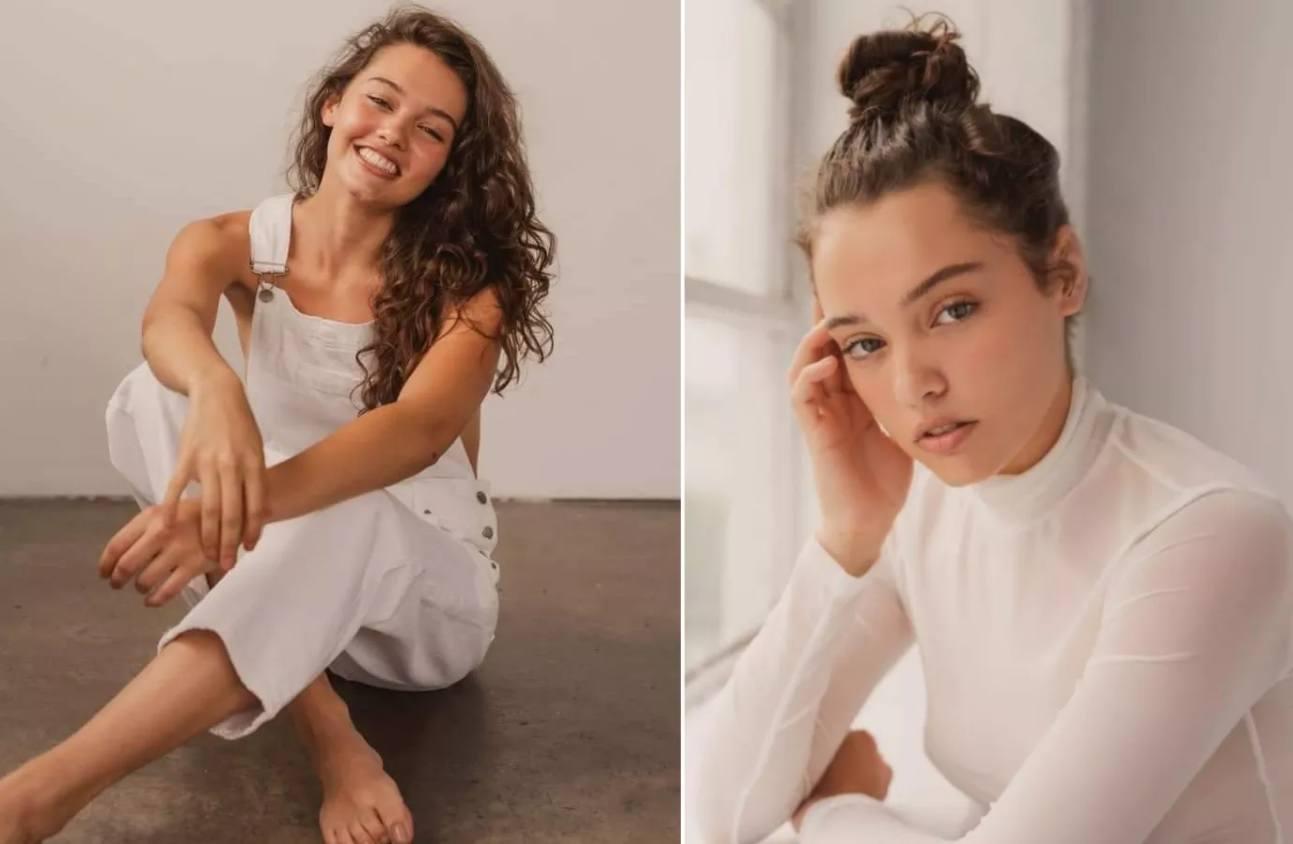 The COVID World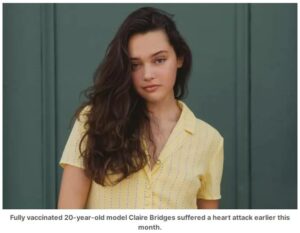 Áður heilbrigð fyrirsæta frá Flórída hefur verið á sjúkrahúsi og barist fyrir lífi sínu eftir að hafa fengið hjartaáfall fyrr í þessum mánuði (janúar 2022).
Claire Bridges, 20 ára, var lögð inn á Tampa General Hospital 16. janúar með mikla verki í fótleggjum og greindist með hjartavöðvabólgu, rákvöðvalýsu, væga lungnabólgu, blásýru og sýrublóðsýringu. Nokkrum tímum eftir innlögn stoppaði hjartað.
Fyrir tveimur vikum hrakaði heilsu Claire hratt þegar hjarta hennar og önnur líffæri urðu fyrir áhrifum. Hún var fljótt lögð á gjörgæslu í lífsbjörg. Faðir hennar, Wayne, sagði um þrautina:
"Hún hefur gengið í gegnum svo margt með þetta. Síðustu tvær vikur hafa liðið eins og tveir mánuðir."
Wayne fékk símtal frá gjörgæslulækninum sem sagði að verið væri að gefa endurlífgun vegna þess að hjarta dóttur hans hefði stöðvast. Á einn og hálfan tíma þurfti að endurlífga tvítugan mann tvisvar til viðbótar. Læknar og skurðlæknar unnu saman að því að finna næstu aðgerð fyrir hjarta hennar og önnur líffæri.
Morguninn eftir var hún sett á Tandem Heart og viðbótarlífsstuðning. Og aðeins nokkrum klukkustundum síðar var hún sett í stöðuga skilun vegna nýrnabilunar.
---
Á meðan allt þetta var í gangi jókst þrýstingur í fótum hennar, sem leyfði ekki blóði að flæða. Á endanum var ákveðið að skaðinn á fótum hennar væri of alvarlegur og óafturkræfur – það þyrfti að taka þá af. Báðir fætur hennar voru fjarlægðir með skurðaðgerð á föstudaginn.
Wayne skrifaði á Facebook:
"Þegar stundin rann upp til að láta hana vita af því að hafa misst fæturna tók læknirinn það fallega en hélt engu aftur af sér. Claire hvíslaði "Ég vil hafa Bionic fætur" og brosti.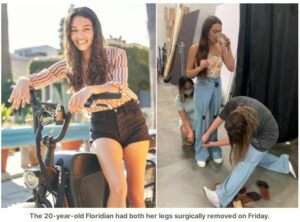 Pabbi hennar er vongóður um að hún geti haldið áfram baráttu sinni og gert það sem hún elskar.
"Við vitum bara að það er langur batavegur með aðgerðina, svo við vonum bara að allir haldi henni uppi með bæn.
Tvær mismunandi GoFundMe síður voru búnar til til að hjálpa með læknis- og framfærslukostnað. Hingað til hafa meira en $90.000 safnast á milli fjáröflunarsíðunna tveggja. Á einni síðu stendur að hluta:
"Claire var lögð inn á Tampa General Hospital sunnudaginn 16. janúar með mikla verki í fótlegg og Covid. Já, hún var bólusett!"
Lestu alla greinina á The COVID World.
---
Sjá einnig:
Claire Bridges: Double-Vaccinated 20-Year-Old Model Develops Myocarditis, Suffers Heart Attack And Has Both Legs Amputated
A previously healthy model from Florida has been in hospital fighting for her life after suffering a heart attack earlier this month (January, 2022).
Claire Bridges, 20-years-old, was admitted to Tampa General Hospital on January 16th with severe leg pain and was diagnosed with myocarditis, rhabdomyolysis, mild pneumonia, cyanotic and acidosis. A few hours after being admitted, her heart stopped.
Two weeks ago, Claire's health rapidly deteriorated when her heart and other organs were impacted. She was quickly put in ICU on life support. Her father, Wayne, said about the ordeal:
"She has been through so much with this. The last two weeks have felt like two months."
Wayne received a call from the ICU doctor saying CPR was being administrated because his daughter's heart had stopped. Over the span of an hour and a half, the 20-year-old had to be revived two more times. Doctors and surgeons worked together to come up with the next course of action for her heart and other organs.
The next morning, she was placed on a Tandem Heart and additional life support. And only a few hours later, she was placed on continuous dialysis because of her failing kidneys.
While all of this was going on, pressure was building in her legs, not allowing blood to flow. Ultimately, it was decided the damage to her legs was too severe and irreversible — they needed to be amputated. Both her legs were surgically removed on Friday.
Wayne wrote on Facebook:
"When the moment came to let her know about losing her legs the doctor handled it beautifully but held nothing back. Claire whispered 'I want Bionic legs' and smiled."
Her dad is hopeful she will be able to continue her fight and do what she loves.
"We just know it's a long road of recovery with the surgery, so we just hope that everyone holds her up with prayer."
Two different GoFundMe pages were created to help with medical and living expenses. So far, more than $90,000 has been raised between the two fundraising pages. One page reads in part:
"Claire was admitted to Tampa General Hospital on Sunday, January 16th, with severe leg pain and Covid. Yes, she was vaccinated!"
Read the full article at The COVID World.
Um höfund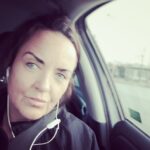 ✞༺(((( Ⓒilla ℜągnąℜṧ )))༻♚༺ BA Classical Art Historian || MA Culture & Media || Tourism & Sales Management || Web Design || Photo & Videographer for Tourism Magasins ༻