Anna De Buisseret: Að sprauta börn er á móti lögum. Það er ólöglegt, ósiðlegt, siðblint og siðlaust
febrúar 20, 2022 - 12:20 f.h.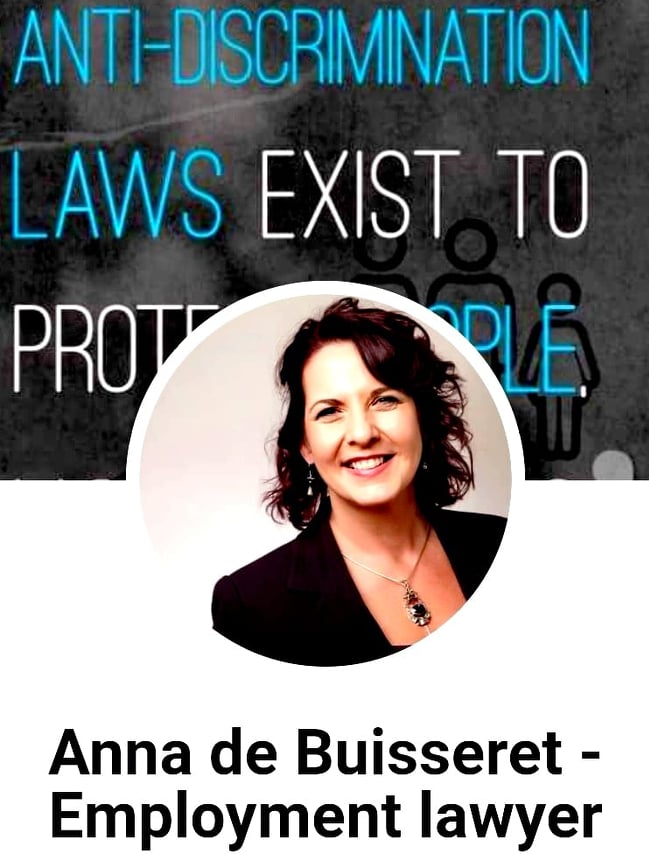 Anna De Buisseret  er fyrrum herforingi og háttsettur lögfræðingur sem varar þá sem eru í ábyrgðarstöðum við því að ef þeir tjá sig ekki verði þeir dregnir til ábyrgðar í öðrum réttarhöldum í NurNberg á sínum tíma.
Hún fullvissar fólk um að "fleiri lögfræðingar en almenningur gerir sér grein fyrir" vinni á bak við tjöldin; og leggur áherslu á mikilvægi þess að sá verknaður að sprauta börn er á móti lögum. Það er ólöglegt, ósiðlegt, siðblint og siðlaust!
---
Þá ráðleggur hún öllu því starfsfólki sem sinnir umönnunarstörfum sem og öllum öðrum starfsmönnum sem standa fyrir fyrir umboði Covid-sprautunnar að "halda línunni"- þ.e.s ekki segja upp störfum heldur upplýsa þig um grundvallarréttindi þín og leggja frakvörtun. Hún útskýrir hvernig vinnuveitandi hefur engan rétt til að framfylgja þessu umboði og getur átt yfir höfði sér ákærur sem meðhöndla eigi eins og hvert annað sakamál með tilvísun í mörg önnur slík mál sem eiga sér þá forsögu um allan heim.
---
  Injecting Children Is Against the Law. It's Illegal, Unlawful, Immoral & Unethical
Anne de Boussier
---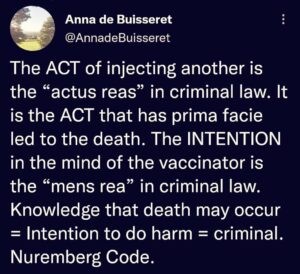 UK and International Lawyers Fighting Covid Murder
---
 All The Law Is On Our Side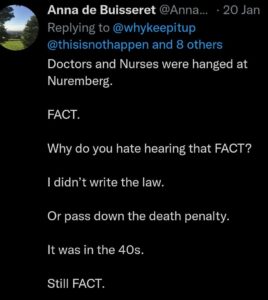 ---
---
Ákæra Anna de Buisseret lögfræðings og fyrrverandi yfirmanns í breska hernum á hendur breskum stjórnvöldum og breskra meginstraumsfjölmiðla.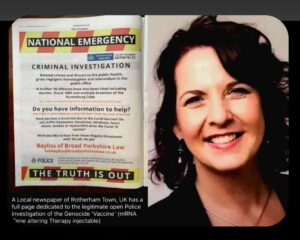 Bresk stjórnvöld og breskir meginstraumsfjölmiðlar ákærð á lögreglustöð í Hammersmith, Bretlandi. "Þetta er mjög alvarlegt – þetta eru stærstu glæpir gegn mannkyni sem framdir hafa verið í sögu mannkyns" – Anna de Buisseret lögfræðingur og fyrrverandi yfirmaður breska hersins, um lögmæti "bóluefnasprauturnar".
---
HEIMILDIR
https://mittval.is/bresk-stjornvold-og-meginstraumsfjolmidlar-akaerd-a-logreglustod-i-hammersmith-bretlandi
Resistance GB – September 10th, 2021 Anna De Buisseret – a retired army officer and a senior lawyer – warns those in positions of responsibility that if they do not speak out, they will be held accountable in a second Nuremburg Trial. Anna speaks about the illegality of the experimental injection and the mask mandates.
---
A sequence of legal events with Anna De Buisseret. 31.10.2021, at the freedom march in London, Anna De Buisseret spoke in detail at Parliament Square about the sheer magnitude of crimes against humanity that has been committed and being investigated by teams of lawyers from around the world with many trials starting to take place.
Anna de Buisseret – Employment lawyer. 3,901 likes · 35 talking about this. Anna is an employment lawyer specialising in all aspects of employment law but specialising in discrimination issues.
Um höfund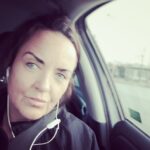 ✞༺(((( Ⓒilla ℜągnąℜṧ )))༻♚༺ BA Classical Art Historian || MA Culture & Media || Tourism & Sales Management || Web Design || Photo & Videographer for Tourism Magasins ༻