Ákæra Anna de Buisseret lögfræðings og fyrrverandi yfirmanns í breska hernum á hendur breskum stjórnvöldum og breskra meginstraumsfjölmiðla.
ágúst 13, 2022 - 1:50 e.h.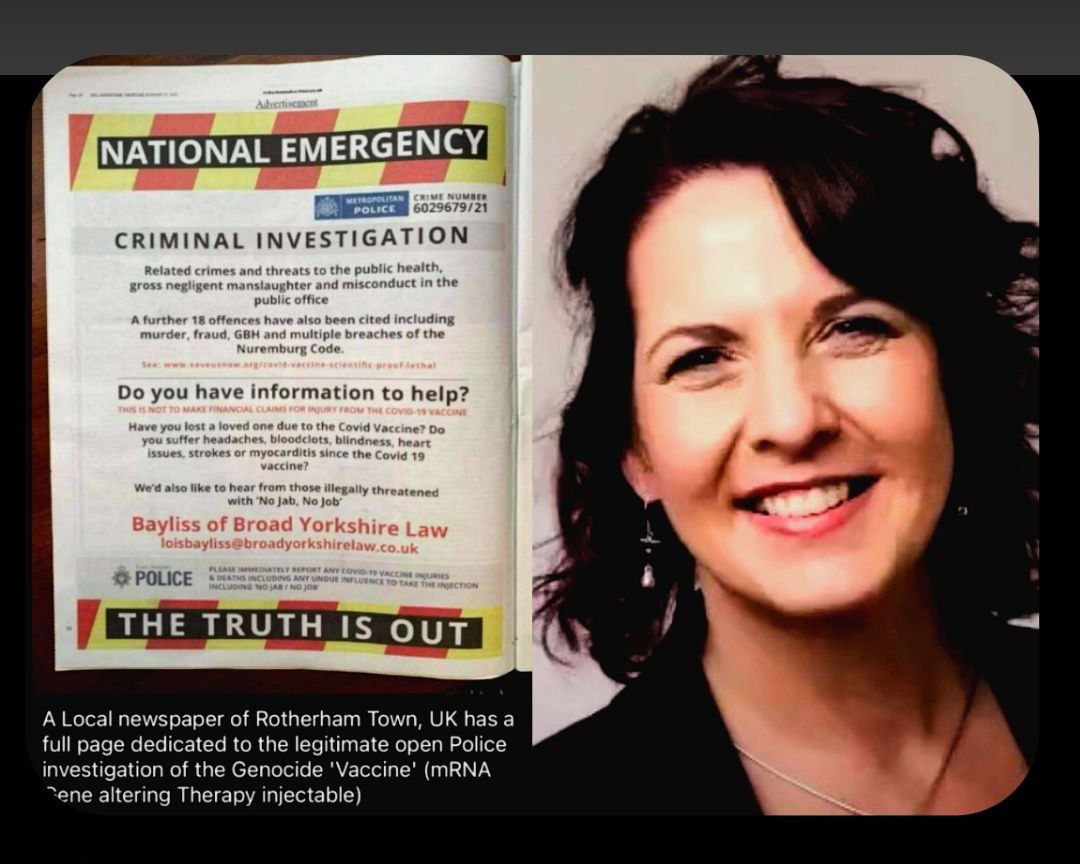 Bresk stjórnvöld og breskir meginstraumsfjölmiðlar ákærð á lögreglustöð í Hammersmith, Bretlandi. "Þetta er mjög alvarlegt – þetta eru stærstu glæpir gegn mannkyni sem framdir hafa verið í sögu mannkyns" – Anna de Buisseret lögfræðingur og fyrrverandi yfirmaður breska hersins, um lögmæti "bóluefnasprauturnar".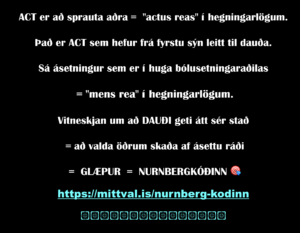 ---
ACT sbr. athæfi sem er að sprauta aðra er "actus rea" sbr. glæpsamlegt athæfi í refsilögum.
Það er AÐGERÐ sem hefur við fyrstu sýn leitt til dauða.
ÁSETNINGUR í huga bólusetningaraðilans er " SAKNÆMUR =mens-rea" í refsilögum.
Vitneskjan um að dauði geti mögulega átt sér stað = Ásetningur til að skaða = Glæpamaður.
Í texta kærunnar kemur einnig fram að með valdhöfum Breta hafi forstjórum alþjóðafyrirtækja með hagsmuni af framleiðslu og sölu covid-bóluefna einnig verið stefnt hjá Alþjóða Glæpadómstólnum.
---

Í þessu frábæra viðtali útskýrir lögfræðingurinn Anna de Buisseret skýrt og mælskulega hvernig þeir sem bera ábyrgð á að valda skaða verða gerðir ábyrgir samkvæmt lögum í tengslum við tilraunasprautur sem nú er verið að setja út, sérstaklega til ungra barna.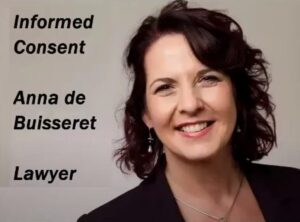 Hún lýsir því hvernig þeir sem hafa beinlínis eða óbeint aðstoðað stjórnvöld í sálrænni aðgerð af hernaðargráðu hafa í raun framið glæpi gegn mannkyninu og að þeir verði óhjákvæmilega dregnir til ábyrgðar, eins og gerst hefur í gegnum tíðina.
Eftir að hafa verið sökuð um hótanir lýsir Anna því yfir að hún sé einfaldlega boðberi og að lög séu lög. Hún er einfaldlega að benda á hvað lögin eru vegna þess að fólk þarf að vera meðvitað um hvað það er að gera og skaða sem það veldur.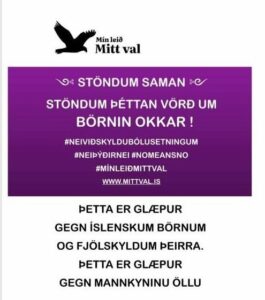 Anna de Bouisseret Explains Who Will be Held Liable Under the Law
The ACT of injecting another is the "actus reas" in criminal law. It is the ACT that has prima facie led to the death. The INTENTION in the mind of the vaccinator is the "mens-rea" in criminal law. Knowledge that death may occur = Intention to do harm = criminal. Nuremberg Code.
Dylan Eleven | Truth11.com
1) 2020 No Pandemic, No Excess Deaths
There was no pandemic in 2020, no excess deaths compared to previous years.
2) 2021 Vaccine Genocide, Deaths Up 40%
The vaccinated are hurt and dying and overall death rates and injury rates have increased in 2021 since the rollout of these killer "Vaccines".
3) 2022 The People Take Back Our World
2022 is the year of the tiger. The year we go on the offensive. Every person who know the truth can take back our world:
• Immediately halt the vaccine roll out
This is done by the people. Everyone tells every person who is giving out the jabs to that they are murdering people and we know it and will hold them personally liable. Be silent no longer. Go to the source. Block the rollout. Ten Million people each day are being put on an irreversible countdown to vaccine death. This must stop now.
• The police must do their job and arrest those responsible for this genocide
This is accomplished by everybody going to your police station and delivering proof of genocide and a demand for them to do their job and arrest based on evidence provided. Arrest those responsible or get out of the way and let us arrest them and end this genocidal plot.
• Masks of slavery and obedience must be removed
This is done by everyone who knows the truth must inform anyone wearing a mask that there is a big movement for people to remove their masks of slavery that are hurting them. They should join with this movement amd be free of the mask.
Also many people who are aware of the truth wear masks at certain times; there must be a zero compliance policy put into affect. Never put a mask on again for any reason.
• Help those who have been vaccinated
There is a ticking time bomb in every vaccinated person who did not get a placebo. This must be the immediate focus of every true health care provider. The vaccine must be detoxed and assistance given to reverse the damage. Inform those who have been vaccinated that they need help before it's too late.
Armed the truth, united we stand and actively take back our world.
---
Experimental Injections. "Biggest Crimes Against Humanity Ever Committed." Anna de Bo uisseret Explains Who Will be Held Liable Under the Law
https://worldfreedomalliance.org/au/news/uk-police-launch-major-investigation-into-mrna-covid19-vaccine0related-corporate-crimes-and-threats-to-public-health
Video: Experimental Injections. "Biggest Crimes Against Humanity Ever Committed." Anna de Bouisseret Explains Who Will be Held Liable Under the Law
Global Research / Anna De Buisseret
All Global Research articles can be read in 51 languages by activating the "Translate Website" drop down menu on the top banner of our home page (Desktop version).
To receive Global Research's Daily Newsletter (selected articles), click here.
Visit and follow us on Instagram at @crg_globalresearch.
"This is very serious – these are the biggest crimes against humanity ever committed in the history of human kind" – Anna de Buisseret
In this brilliant interview, lawyer Anna de Buisseret explains clearly and eloquently how those responsible for causing harm will be held liable under the law in relation to the experimental injections currently being rolled out, especially to young children. She describes how those who have explicitly or implicitly aided and abetted governments in a military grade psychological operation have essentially committed crimes against humanity and that they will inevitably be held accountable, as has happened throughout history.
Having been accused of issuing threats, Anna declares she is simply a messenger and that the law is the law. She is simply pointing out what the law is because people need to be aware of what they are doing and the harms they are causing.
Note to readers: Please click the share buttons above or below. Follow us on Instagram, @crg_globalresearch. Forward this article to your email lists. Crosspost on your blog site, internet forums. etc.
Featured image is from TrialSiteNews
Thank You For Helping Independent Media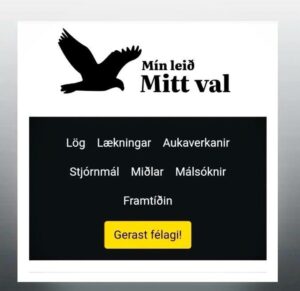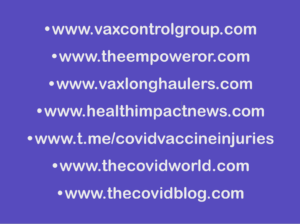 Um höfund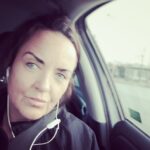 ✞༺(((( Ⓒilla ℜągnąℜṧ )))༻♚༺ BA Classical Art Historian || MA Culture & Media || Tourism & Sales Management || Web Design || Photo & Videographer for Tourism Magasins ༻