WE ARE REAL, NOT REAR – PROTECT THE CHILDREN !
desember 16, 2021 - 2:51 e.h.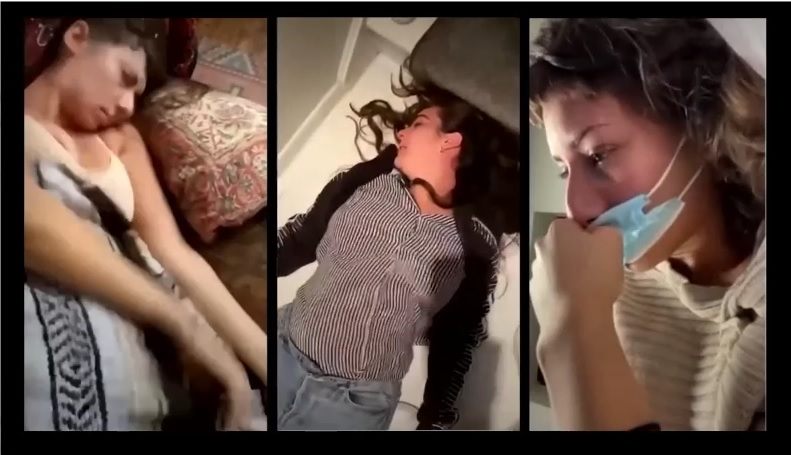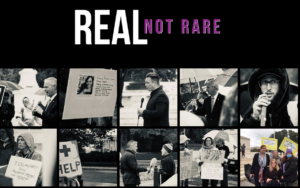 Screen capture from Real Not Rare video.
by Brian Shilhavy
Editor, Health Impact News
A new website has been launched where people can tell their stories about being injured by one of the COVID-19 shots.
The name of the website is Real Not Rare, and they also have groups people can join, and it appears there is one group in each state.
They also have a "Take Action" section. Health Impact News subscribers will recognize quite a few of the people in their videos, as we have covered many of their stories here.
Here is their trailer:
Here is what they say about themselves:
Our Purpose
Real lives are being affected by "not so rare" consequences. 

Our purpose is to raise awareness of the many vaccine injuries that are happening, to create a community of public support, to give a voice to those who have been silenced, to have our elected officials acknowledge us, to encourage ways to advocate, and to change public perception.

This is all in an effort to help the injured

 receive better healthcare and treatment. 

Vaccine injured individuals did their part by getting this vaccine, and now they need your help.

Although many do great with the vaccine, there is a chance for an adverse reaction. We believe where there is risk, there should be choice. 

Many are losing employment over these mandates, and we can not afford unemployment numbers to keep rising. We need to strengthen our economy; not lose our workforce.

This is not red vs. blue. This is not us vs. them.
This is humanity vs. disease. #teamhumanity.  

---
Our Demands
 Our elected officials and federal health agencies must start acknowledging our adverse reactions to the vaccines. We have been silenced for nearly a year. Stop the censorship!

 The medical community needs to be informed of these adverse reactions so that we can obtain better medical care.

 Large scale research needs to be funded – to increase understanding of these reactions, find a path to recovery, and to help make the vaccines safer for everyone. There is currently no safety net for those Americans injured.

 Stop the denial of religious and medical exemptions.

 Stop the mandates. Where there is a risk – there should be a choice. We need to strengthen our economy; not lose our workforce.

 We need the covid vaccines to be added under the VICP program, including eligibility for those who were injured under the EUA and clinical trials!
Getting the covid vaccine is a public service, and we rolled up our sleeves to do our part to stop the pandemic. It took bravery for those who got the vaccine early on or during the clinical trials. They willingly rolled up their sleeves and are now left out cold by the very same government who urged us to get our doses.  This must change!
Who We Are
We are a completely independent, grass-roots movement comprised of people who have become united through our human suffering. This is not political. Many of us have lost loved ones to covid, and take it seriously. This is not about whether or not to vaccinate or wear a mask. This is about freedom of choice, informed consent, and quality healthcare for the injured.
Visit their website: https://www.realnotrare.com
---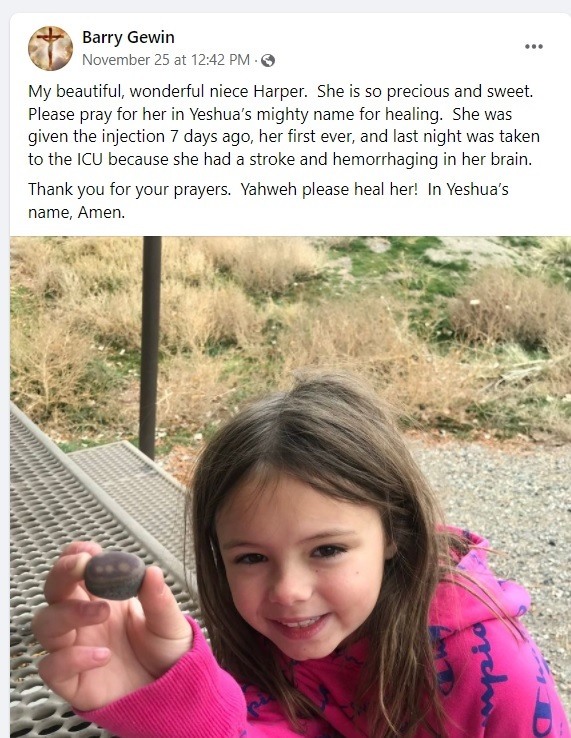 ---
UPDATE: Barry Gewin has contacted us and told us his niece is 8-years-old, not 7-years-old.
by Brian Shilhavy
Editor, Health Impact News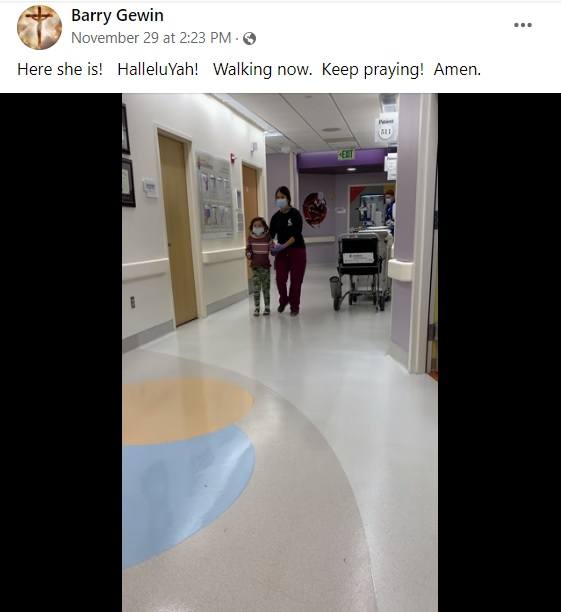 ---
An Obligation and Commitment to the Truth
I am afraid that this is what it is going to take to bring these COVID-19 lethal injection casualties in children to the public.
Family members and friends cannot just sit by and watch this happen, especially if the parents are reluctant to go public with their child's COVID-19 "vaccine" injuries and deaths, as most assuredly the majority of them will be pressured to keep quiet about this, as they deal with their own guilt and shame.
Not a single Governor of either a Red or Blue State has stepped in to stop these bioweapons from being injected into children, even though they have the power to do so, so they are complicit with these injuries and murders, as unaware parents take their children in to get injected and be abused with these shots.
Do not let the blood of these innocent children whose parents are foolishly sacrificing their children to the vaccine gods stain your own hands with blood. Let the public know what is going on, letting this evil see the light of day, and not hiding in the darkness.
Rescue those being led away to death; hold back those staggering toward slaughter.

If you say, "But we knew nothing about this," does not he who weighs the heart perceive it? Does not he who guards your life know it? Will he not repay each person according to what he has done? (Proverbs 24:11-12)
You can send their stories to us, and also to The COVID Blog, and The COVID World, who are also publishing many of these stories.
Share this video far and wide showing what parents have already gone through in losing their children to the Vaccine Cult.
---
---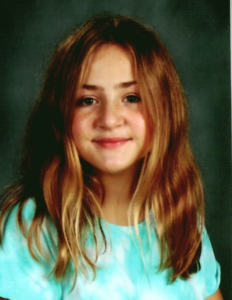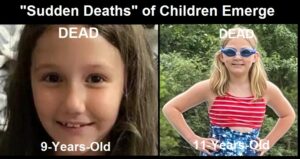 https://healthimpactnews.com/2021/32649-deaths-3003296-injuries-following-covid-shots-in-european-database-of-adverse-reactions-as-young-previously-healthy-people-continue-to-die
In an exclusive, another professional sportsman has been forced to end their career due to the Pfizer COVID-19 vaccine.
BYU basketball player Richard Harward has announced that he will not be playing for the rest of the season after collapsing during a BYU exhibition game against Colorado Christian on November 4th, less than two weeks after he was coerced into taking the jab by team management.
Richard said about the ordeal:
"The condition affecting my heart has developed further complications. For my health and safety, it has been determined I will be out the remainder of the season. I have been overwhelmed with the outpouring of kindness and support."
According to his mother, Alice, Richard originally did not want the vaccine but was "pressured, coerced and shamed" by team management who eventually threatened to stop him from playing for "not going along" and "keeping everyone safe". However, as is obvious by now, the vaccines are not safe and Richard has paid a very heavy price, from which he may never recover.
Richard, who was previously in peak physical condition, became extremely ill within a few days of getting the jab, passing out and suffering from "horrible pressure and pain in his chest". He has developed severe heart inflammation as well as blood clots. It is highly unlikely that a professional sportsman could ever come back from such injuries to ever be a top player again.
As is usual in these cases, all the doctors that he saw except one denied to his face that it could have anything to do with the jabs and said that such injuries "are just inevitable at some point of life for some people." Doctors have also apparently recommended that he not take blood thinners such as aspirin to fight the clots.
The rest of his BYU teammates are understandably shocked at his injuries and are currently discussing filing a lawsuit against the team, although if past experience is any guide, the only tactic that will have any effect is a team strike.
Read the full article at The COVID World.
---
---
---
Attorney Peter Maatouk, who states that he has a "long list" of children injured by the COVID-19 shots and is seeking a class action lawsuit, discusses one of his clients who is only 12-years-old and can no longer walk, being confined to a wheelchair, after taking the Pfizer shot. The child spent 9 nights in the hospital and now has neurological problems. This is from our Bitchute channel, and it is on our Telegram channel as well.
---
< Sign The Petition: Unmask Our Children! >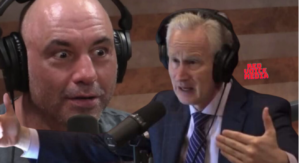 Joe Rogan: So you believe this is a premeditated thing that they were doing. So they realize that in order to get people enthusiastic about taking this vaccine, the best way to do that was to not have a protocol for treatment.
Joe Rogan sat down with Dr. Peter McCullough on his podcast, The Joe Rogan Experience, to discuss the narratives surrounding COVID-19.
Below is a short video from that interview. McCullough claims that the entire pandemic was actually a pandemic perpetrated on the people to get them to agree to inject themselves with experimental drugs.
There's Proof The Pandemic Was Coordinated, Planned Effort For Mass Vaccination – Dr. McCullough [VIDEO]
Um höfund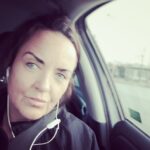 ✞༺(((( Ⓒilla ℜągnąℜṧ )))༻♚༺ BA Classical Art Historian || MA Culture & Media || Tourism & Sales Management || Web Design || Photo & Videographer for Tourism Magasins ༻