nóvember 24, 2022 - 6:23 e.h.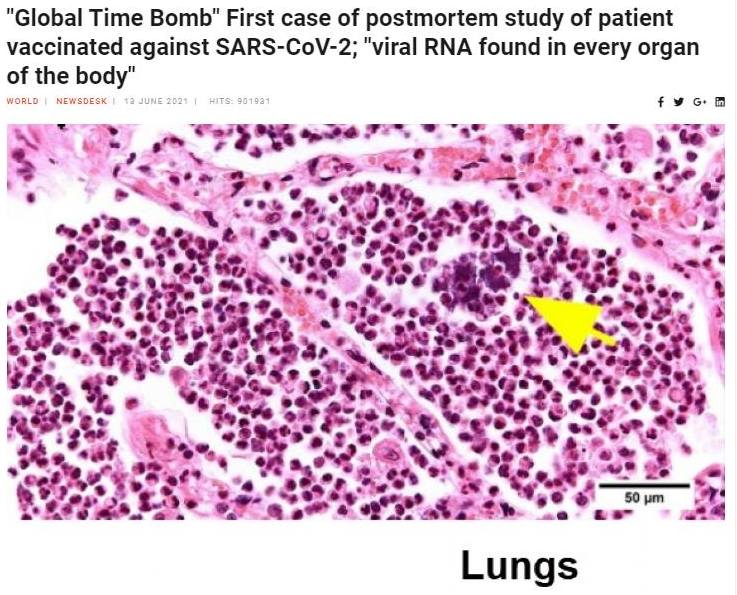 June 14, 2021
The first known autopsy of a person who had been vaccinated against Covid-19 has been carried out. He showed a negative response to a PCR test 18 days after vaccination, when he was admitted to hospital.
He died 28 days after receiving the injection, and an autopsy revealed that he had RNA viruses in almost every organ of his body.
---
Although the vaccine triggered an immune response,

IT DID NOT PREVENT THE VIRUSES FROM SPREADING TO MOSTLY EVERY ORGAN OF THE BODY.
Along with RNA viruses, spike protein was found in almost every organ of the body. This is stated in an article on Hal Turner's news website, which is considered to be a very reliable source of news.
---
THE S1 SPIKE PROTEIN CAUSES THE DAMAGE
---
There were active antibodies (like the "vaccine" to be made), but they had no effect, because research[ii] done in Japan shows that it is the S1 spike protein that causes the damage.
Hal sent the autopsy results, which had been published on Science Direct, to an infectious disease specialist at a New Jersey hospital for his opinion.
---
When he contacted Hal soon after, it was clear that he was upset. He said, "You can't quote me by name, or I'll be kicked out of the hospital." Hal agreed to withhold his name, and then he told him the following:
People think that only a FEW people get side effects from the vaccine.
However, this study shows that all
– GET TO THE END – side effects,
because the spike protein binds to
ACE2 receptors everywhere in the body.
This mRNA was supposed to stay in place where
the support was done but doesn't do it.
This means that the spike protein that the mRNA creates goes to all the organs
and we now know that it is the spike protein that does the damage.
Worse, since RNA viruses are found in all organs,
despite vaccination, it indicates either:
A – The vaccine does not work at all…
or
B – The virus causes hyperamplification of the immune response (ADE or Antibody
Dependent Enhancement) – which means it spreads
FASTER in those who have been vaccinated.
---
TICKING TIME BOMBS AROUND THE WORLD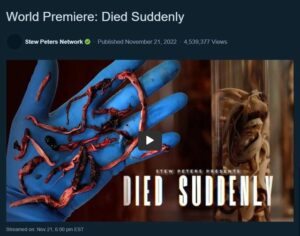 The documentary "Died Suddenly" 
---
According to the autopsy report, the vaccinated man was 86 years old and showed a negative response to a Covid-19 test, when he arrived at the hospital with severe gastrointestinal problems and breathing difficulties.
The report states the following:
The report is about an 86-year-old man who lived in a nursing home and had received a vaccine against SARS-CoV-2. His medical history revealed that he had hypertension, chronic venous insufficiency, amnesia and prostate cancer. On January 9, 2021, the man received the mRNA vaccine BNT162b2 (from Pfizer/BioNTech) at a dose of 30 µg.  On that day and for the next two weeks, he showed no signs of side effects – see Table 1[iv].
On the eighteenth day he was hospitalized with worsening diarrhea. Since he showed no signs of Covid-19, he was not placed in isolation.
Test results showed pale and microcytic anemia and increased levels of creatine in the blood. Antigen test and PCR (Polymerase Chain Reaction) test against SARS-CoV-2 were negative.
The autopsy report clearly states that there were "no COVID-related deformities" in his organs.
---
COVID INFECTION CAUSES SHAPE CHANGES
The COVID infection is known to cause specific morphological changes in the areas it infects. THOSE CHANGES HAD NOT OCCURRED IN THE VACCINED MAN BEFORE HE DID .  
The deceased was in a room with a man who later tested positive, and the report states that they believe the deceased vaccinated man contracted COVID after he arrived at the hospital, from that man.
Therefore, it appears that the damage to the deceased vaccinated man's organs occurred BEFORE HE WAS INFECTED with COVID by the other patient in the hospital.
The problem is that when he was infected with COVID, it spread so quickly through his body due to the over-amplification of the immune response, that he never had a chance. See pictures of tissues from the dead man:
---
---
WARNINGS FROM DOCTORS AROUND THE WORLD
Many doctors have warned against ADE or Antibody Dependent Enhancement after vaccination , especially with Pfizer/ BioNTech and Moderna, as those vaccines have software. Moderna, for example, boasts on its website that it has software for life in its vaccine – see more details HERE .
Among the doctors who have warned against this over-amplification of the immune response are Drs. Sherry Tenpenny [v] , Dr. Lee Merritt and Dr. Sucharit Bhakti .
In a recent interview with Gústaf Skúlason on Útvarp Saga, he discussed the spike protein and its damage, among other things, to walleyes. 
Here you can [vi] view the news and listen to the interview
Photos : From Hal Turner's website
---
[i] https://halturnerradioshow.com/index.php/en/news-page/world/global-time-bomb-first-case-of-postmortem-study-of-patient-vaccinated-against-sars-cov -2-mrna-found-in-every-organ-of-the-body
fbclid=IwAR0fkewg9U7VhvDFySDh6e2Kly9CqtUtEApqk9yMOJL-gtgMtSJMyZYayRo
[ii] https://www.cell.com/cell/pdf/S0092-8674(21)00662-0.pdf – Liu, Y., Soh, WT, Kishikawa, J.-i., Hirose, M. , Nakayama, EE, Li, S., Sasai, M., Suzuki, T., Tada, A., Arakawa, A., Matsuoka, S., Akamatsu, K., Matsuda, M., Ono, C., Torii, S., Kishida, K., Jin, H., Nakai, W., Arase, N., Nakagawa, A., Matsumoto, M., Nakazaki, Y., Shindo, Y., Kohyama, M., Tomii, K., Ohmura, K., Ohshima, S., Okamoto, T., Yamamoto, M., Nakagami, H., Matsuura, Y., Nakagawa, A., Kato, T., Okada, M., Standley, DM, Shioda, T., Arase, H., An infectivityenhancing site on the SARS-CoV-2 spike protein targeted by antibodies, Cell (2021), doi: https:// doi.org/10.1016/j.cell .2021.05.032
---
[iii] https://www.sciencedirect.com/science/article/pii/S1201971221003647
[iv] https://www.ijidonline.com/article/S1201-9712(21)00364-7/fulltext#tbl0005
[v] https://www.drtenpenny.com/
[vi] https://www.utvarpsaga.is/gaddaprotein-i-boluefnum-pfizer-varasamt-getur-valdid-ofrjosemi-og-sjukdomum/
Um höfund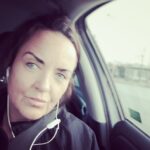 ✞༺(((( Ⓒilla ℜągnąℜṧ )))༻♚༺ BA Classical Art Historian || MA Culture & Media || Tourism & Sales Management || Web Design || Photo & Videographer for Tourism Magasins ༻