Af hverju eru óbólusettir að hverfa af gjörgæsludeildum?
nóvember 6, 2022 - 11:39 e.h.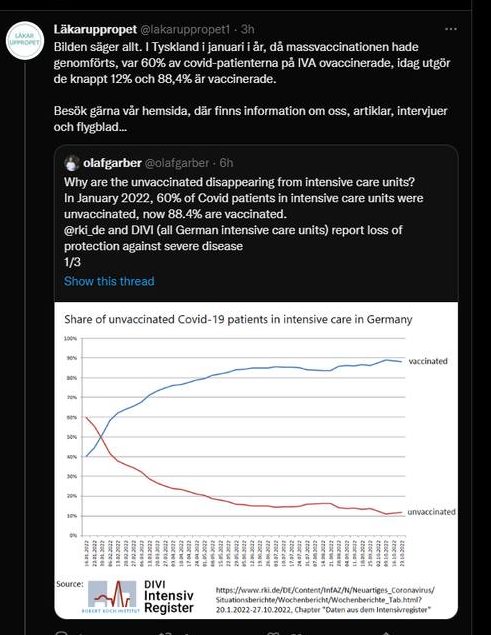 Myndin segir allt sem segja þarf. Í Þýskalandi í janúar á þessu ári, þegar fjöldabólusetningin hafði verið framkvæmd, voru 60% kórónuveirunnar á gjörgæsludeild óbólusettir, í dag eru þeir tæplega 12% og 88,4% eru bólusettir.
Í janúar 2022 voru 60% Covid sjúklinga á gjörgæsludeildum óbólusettir, nú eru 88,4% bólusettir.
@rki_de og DIVI allar þýskar gjörgæsludeildir) tilkynna tap á vernd gegn . . 
---
Läkaruppropet
@lakaruppropet1
An appeal launched by 3 Swedish physicians in March 2021 for focused protection against covid-19, for dropping restrictions and against vaccine passports.
Endilega kíkið á heimasíðuna okkar, þar eru upplýsingar um okkur, greinar, viðtöl og auglýsingablöð…
---
Serious Side Effects Exceed the Risk of Hospitalization with COVID-19 in the Swedish Population
Með því að samþykkja leynilega bóluefnatilraun á íslensku þjóðinni án hennar vitundar hafið þið brotið flestar greinar laga um klínískar og/eða vísindarannsóknir á heilbrigðissviði, eins Nuremberg siðareglurnar, Genfarsamkomulagið, Helsinki Læknasáttmálann og Mannréttindasáttmála Evrópusambandsins.
Why are the unvaccinated disappearing from intensive care units?
In January 2022, 60% of Covid patients in intensive care units were unvaccinated, now 88.4% are vaccinated.
@rki_de and DIVI (all German intensive care units) report loss of protection against
---
WWW.MITTVAL.IS/ABOUT-US
#DIEDSUDDENLY
www,diedsuddenly.info 
 DIED SUDDENLY NEWS 2
Died Suddenly/Unwanted Effect
Died Suddenly News
Real, Not Rare
Died Suddenly or Unexpectedly – Eyes Wide Open
MÍN LEIÐ * MITT VAL
COVID BUBBLAN 
Folkets rättigheter i 
BRIS: Barnens Rätt I Samhället
@COVIDBUBBLAN 
---
---
Um höfund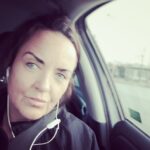 ✞༺(((( Ⓒilla ℜągnąℜṧ )))༻♚༺ BA Classical Art Historian || MA Culture & Media || Tourism & Sales Management || Web Design || Photo & Videographer for Tourism Magasins ༻